Carewell@Caldwell Family Day Care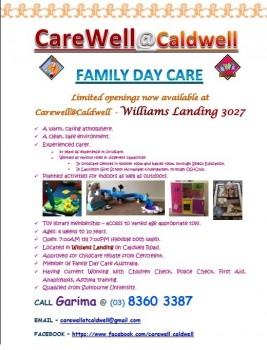 Hi,
I am running a Family Day Care in Williams Landing on Caldwell Rd. I am open for casual care and long day care. I am approved for child care rebate. My hourly charge is $6.60. I am taking children from 1 year old till 5 year old. Please call 0448990353 or email carewellatcaldwell@gmail.com for further queries. I am working with Future Stars Family Day Care agency. 
I believe in providing individualised quality care to children. 
Thanks and regards,
Garima
Address:
Caldwell Rd, Williams Landing, VIC